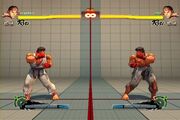 Street Fighter IV, like many 3D fighting games, features alternate costumes for the playable characters. The game also continues the tradition of using alternate colors for these characters, allowing the player to select a color for both original and alternate costumes.
All characters in Street Fighter IV and its updates have 6 or 7 costumes with 10 colors each (plus two "stylized" versions of color 1). Costumes from the Vacation, Wild, and Horror packs have 20 colors each.[1]
Street Fighter IV CostumesEdit
Each character has one alternate costume in the original Street Fighter IV.
Super Street Fighter IV CostumesEdit
In Super Street Fighter IV, the returning characters have three costumes, and the characters introduced in Super and Arcade Edition have two.
Ultra Street Fighter IV CostumesEdit
In addition to every previously released costume, the new characters were given two costumes each. They have their Alternate 1 costumes locked. The player must have save data from Street Fighter X Tekken to use them.[1] Their Alternate 2 is either available by pre-ordering the game or as DLC. Three new sets for every character were also introduced as DLC.
The PlayStation 4 version includes all costumes that were released before May 26, 2015.
List of alternate costumes
Edit
Alternate 1: Wrestling singlet with French flag, wrestling boots, shin guards, karate gloves.
Alternate 2: Combat boots, armored pants, shoulder harness with handguns, headband, fingerless gloves with forearm guards.
Alternate 3: Striped knee-length pants, flip flops, goggles, bracelets,necklace, and wristwatch.
Alternate 4 (Vacation): Cargo pants, sandals, jacket, scarf, cap, fingerless gloves.
Alternate 5 (Wild): A wrestling outfit made from wool with a hat resembling a ram's head.
Alternate 6 (Horror): Striped shirt, pants with overalls (with the left strap undone), damaged socks, sneakers, gloves, beret, smeared face paint. This outfit resemble the popular image of a French mime.
Alternate 1: Bodysuit with flame pattern around sleeves, spandex foot/ankles wraps, fingerless gloves, mongkhon with string tassels.
Alternate 2: Dragon mask, oriental shirt with shoulder pads and highly decorated accents, baggy knee-length pants with long tassels, ankle ring.
Alternate 3 (Vacation): Open jacket, pants with jaguar belt buckle, sneakers, mongkhon.
Alternate 4 (Wild): Chameleon costume with tunic, socks, scarf, and hand guards.
Alternate 5 (Horror): Devil mask, shoulder pad with cape, metal bacelets, skull belt buckle with demon tail wrapped around it, knee-length pants, sharp toenails, neon skin.
Alternate 1
Alternate 2
Alternate 3
Alternate 4 (Vacation)
Alternate 5 (Wild)
Alternate 6 (Horror)
Alternate 1
Alternate 2
Alternate 3
Alternate 4 (Vacation)
Alternate 5 (Wild)
Alternate 6 (Horror)
Alternate 1
Alternate 2
Alternate 3
Alternate 4 (Vacation)
Alternate 5 (Wild)
Alternate 6 (Horror)
Alternate 1
Alternate 2
Alternate 3
Alternate 4 (Vacation)
Alternate 5 (Wild)
Alternate 6 (Horror)
Alternate 1
Alternate 2
Alternate 3
Alternate 4 (Vacation)
Alternate 5 (Wild)
Alternate 6 (Horror)
Alternate 1
Alternate 2
Alternate 3
Alternate 4 (Vacation)
Alternate 5 (Wild)
Alternate 6 (Horror)
Alternate 1
Alternate 2
Alternate 3 (Vacation)
Alternate 4 (Wild)
Alternate 5 (Horror)
Alternate 1
Alternate 2
Alternate 3
Alternate 4 (Vacation)
Alternate 5 (Wild)
Alternate 6 (Horror)
Alternate 1
Alternate 2
Alternate 3 (Vacation)
Alternate 4 (Wild)
Alternate 5 (Horror)
Alternate 1
Alternate 2
Alternate 3 (Vacation)
Alternate 4 (Wild)
Alternate 5 (Horror)
Alternate 1
Alternate 2
Alternate 3
Alternate 4 (Vacation)
Alternate 5 (Wild)
Alternate 6 (Horror)
Alternate 1
Alternate 2
Alternate 3 (Vacation)
Alternate 4 (Wild)
Alternate 5 (Horror)
Alternate 1
Alternate 2
Alternate 3
Alternate 4 (Vacation)
Alternate 5 (Wild)
Alternate 6 (Horror)
Alternate 1
Alternate 2
Alternate 3 (Vacation)
Alternate 4 (Wild)
Alternate 5 (Horror)
Alternate 1
Alternate 2
Alternate 3 (Vacation)
Alternate 4 (Wild)
Alternate 5 (Horror)
Alternate 1
Alternate 2
Alternate 3
Alternate 4 (Vacation)
Alternate 5 (Wild)
Alternate 6 (Horror)
Alternate 1
Alternate 2
Alternate 3
Alternate 4 (Vacation)
Alternate 5 (Wild)
Alternate 6 (Horror)
Alternate 1
Alternate 2
Alternate 3
Alternate 4 (Vacation)
Alternate 5 (Wild)
Alternate 6 (Horror)
Alternate 1
Alternate 2
Alternate 3
Alternate 4 (Vacation)
Alternate 5 (Wild)
Alternate 6 (Horror)
Alternate 1
Alternate 2
Alternate 3
Alternate 4 (Vacation)
Alternate 5 (Wild)
Alternate 6 (Horror)
Alternate 1
Alternate 2
Alternate 3 (Vacation)
Alternate 4 (Wild)
Alternate 5 (Horror)
Alternate 1
Alternate 2
Alternate 3 (Vacation)
Alternate 4 (Wild)
Alternate 5 (Horror)
Alternate 1
Alternate 2
Alternate 3 (Vacation)
Alternate 4 (Wild)
Alternate 5 (Horror)
Alternate 1
Alternate 2
Alternate 3 (Vacation)
Alternate 4 (Wild)
Alternate 5 (Horror)
Alternate 1
Alternate 2
Alternate 3 (Vacation)
Alternate 4 (Wild)
Alternate 5 (Horror)
Alternate 1
Alternate 2
Alternate 3
Alternate 4 (Vacation)
Alternate 5 (Wild)
Alternate 6 (Horror)
Alternate 1
Alternate 2
Alternate 3
Alternate 4 (Vacation)
Alternate 5 (Wild)
Alternate 6 (Horror)
Alternate 1
Alternate 2
Alternate 3 (Vacation)
Alternate 4 (Wild)
Alternate 5 (Horror)
Alternate 1
Alternate 2
Alternate 3 (Vacation)
Alternate 4 (Wild)
Alternate 5 (Horror)
Alternate 1
Alternate 2
Alternate 3 (Vacation)
Alternate 4 (Wild)
Alternate 5 (Horror)
Alternate 1
Alternate 2
Alternate 3 (Vacation)
Alternate 4 (Wild)
Alternate 5 (Horror)
Alternate 1
Alternate 2
Alternate 3
Alternate 4 (Vacation)
Alternate 5 (Wild)
Alternate 6 (Horror)
Alternate 1
Alternate 2
Alternate 3
Alternate 4 (Vacation)
Alternate 5 (Wild)
Alternate 6 (Horror)
Alternate 1
Alternate 2
Alternate 3
Alternate 4 (Vacation)
Alternate 5 (Wild)
Alternate 6 (Horror)
Alternate 1
Alternate 2
Alternate 3
Alternate 4 (Vacation)
Alternate 5 (Wild)
Alternate 6 (Horror)
Alternate 1
Alternate 2
Alternate 3
Alternate 4 (Vacation)
Alternate 5 (Wild)
Alternate 6 (Horror)
Alternate 1
Alternate 2
Alternate 3
Alternate 4 (Vacation)
Alternate 5 (Wild)
Alternate 6 (Horror)
Alternate 1
Alternate 2
Alternate 3 (Vacation)
Alternate 4 (Wild)
Alternate 5 (Horror)
Alternate 1
Alternate 2
Alternate 3
Alternate 4 (Vacation)
Alternate 5 (Wild)
Alternate 6 (Horror)
Alternate 1
Alternate 2
Alternate 3 (Vacation)
Alternate 4 (Wild)
Alternate 5 (Horror)
Alternate 1
Alternate 2
Alternate 3 (Vacation)
Alternate 4 (Wild)
Alternate 5 (Horror)
Alternate 1
Alternate 2
Alternate 3
Alternate 4 (Vacation)
Alternate 5 (Wild)
Alternate 6 (Horror)
References
Edit