This article describes a project that is either fan-based or otherwise unofficial. The article exists because said content is of exceptional notability and/or has been given the approval of Capcom.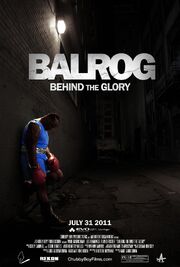 Balrog: Behind the Glory is a short, 12 minute live-action fan film based on Capcom's popular fighting game series Street Fighter, and is presented as a mockumentary film on Balrog. The film was shown at EVO 2011 on July 31st, 2011.
Set between the events Street Fighter II and Street Fighter IV. It follows Balrog's (who is portrayed by Les Jennings and the younger Balrog is played by Chaz Flemming) journey through his childhood, his boxing career, and his involvement with Shadaloo. The film features interviews with Balrog's father, Greg (Floyd Foster), Balrog's former trainer, Tim Tashun (Nate Reese), Former Shadaloo enforcer and Mad Gear member, Jibril Albacara (Phillipe Simon) and the writer of a book about the rise and fall of Shadaloo, Michah Shultz (Martinez)
The film names the kings of Shadaloo after the Japanese original names: Mike Bison, the boxer known as Balrog outside of Japan, Vega, the dictator known as M. (or Master) Bison outside of Japan and Balrog, the claw-wielding ninja known as Vega outside of Japan.

The film also features a short clip in which Mike Bison gambles with the other characters and switches around their names as per conditions of his victory. Thus Vega becomes Bison, Balrog is named Vega and Bison turns to Balrog. Balrog (now Vega) walks away annoyed, with Balrog (formerly Bison) teasing him that he would change his name to Sagat.

The man Bison killed that got him banned from boxing is seen in the film as a white man with blond hair, which was given the name Joe Sullivan (played by Max Aria). He was headbutted by Bison which caused head trauma and eventually his death.
External links
Edit