This article describes a project that is either fan-based or otherwise unofficial. The article exists because said content is of exceptional notability and/or has been given the approval of Capcom.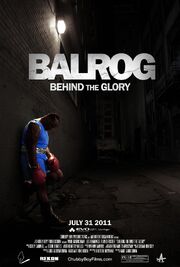 Balrog: Behind the Glory is a short live-action fan film based on Capcom's popular fighting game series Street Fighter, and is presented as a mockumentary film on Balrog. The film was shown at EVO 2011 on July 31st, 2011.
Set between the events Street Fighter II and Street Fighter IV. It follows Balrog's journey through his childhood, his boxing career, and his involvement with Shadaloo.
External links
Edit
Ad blocker interference detected!
Wikia is a free-to-use site that makes money from advertising. We have a modified experience for viewers using ad blockers

Wikia is not accessible if you've made further modifications. Remove the custom ad blocker rule(s) and the page will load as expected.