This article or section is a stub.
You can help the Street Fighter Wiki by expanding it.
For the enemy character from the original Final Fight, see Billy and Sid.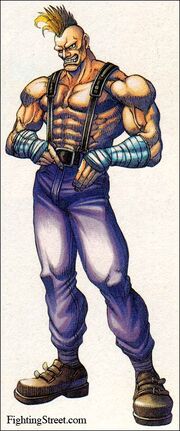 Billy and Ray are Final Fight characters who first appeared in the Capcom game Final Fight 3. They are some of the minor enemy characters the player characters face.
Appearance
Edit
Billy and Ray are thin thugs who wear hand wraps and pants that they hold up with suspenders. Billy has a mohawk, and Ray has spiked hair and wears a headband that matches with his pants.
Fighting style
Edit
Billy and Ray fight like boxers, attacking only with their fists. Their favorite combo is two jabs followed by an uppercut. Although they are rather weak, they like to strike enemies from behind and can be annoying when teamed up with other thugs.
Ad blocker interference detected!
Wikia is a free-to-use site that makes money from advertising. We have a modified experience for viewers using ad blockers

Wikia is not accessible if you've made further modifications. Remove the custom ad blocker rule(s) and the page will load as expected.