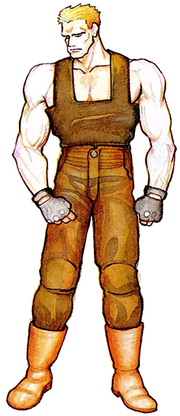 Bred (ブレッド, Bureddo?), along with Dug, Jake, and Simons, are characters from the Final Fight series, where they are members of the Mad Gear Gang. They are common enemies fought in Final Fight, and are palette swaps of each other with a different head.
Bred also appears in the Car Crusher Bonus Stage from the Street Fighter IV series (except the 3DS port) when the player completely destroys the car with Guy, Cody, Hugo, Poison or Rolento.
Biography
Edit
Appearance
Edit
Bred exemplified the look of a typical Mad Gear thug. He wears a gray (or light brown) suit and has dirty blond hair.
Dug, Jake, and Simons wear the same clothes, but with different colors. Their head is also different:
Dug wears red. He's bald and wears shades.
Jake is a bearded thug whose outfit is blue and he wears a vest.
Simons is a yellow-dressed man with a clean-shaven face and shades.
Bred (and presumably the others) is 178 cm and weighs 70 kg.[1]
Personality
Edit
Bred, also known by the nickname "Pol-chan" (ポルちゃん, "Pol-chan"?), is described as a nice person who seems to have been doomed since birth to constantly get into trouble. This may be what caused him to end up in the Mad Gear Gang. He loves his car and often polishes it, but much to his misfortune, it is frequently destroyed.[1]
Not much is known about Dug, Jake, and Simons.
Fighting style
Edit
Bred and the others are straightforward fighters who deliver basic punch attacks. They aren't very strong, but make up for it by attacking in groups. Each of the four has a different health gauge (from lowest to highest: Bred, Dug, Jake, Simons).
Dug and Simons were black in the Japanese version of Final Fight, but their skin tones were lightened in the international version.[2]
In the Japanese version of Final Fight, Bred said "Oh! My god" when he saw his destroyed car. In the international version, this line was changed to "Oh! My car" because of Nintendo's censorship policy.[2]
References
Edit