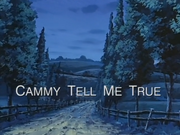 Cammy Tell Me True is the thirteenth and final episode in the second season as well as the overall final episode of the Street Fighter TV series.
M. Bison captures the MI5 team in a brief battle, and the British government are adamant about getting them back, as they know critical government secrets. Bison compiles doomsday codes, which are the launch protocols for every known nuclear bomb on earth, and plans to not take over the world, but to destroy it. Guile and Chun-Li are given a package from Sagat, containing the secret of Cammy's past, as Sagat does not want the world destroyed by Bison. They infiltrate Bison's base, and everyone, including MI5, team up to stop Bison, and destroy his computer console with one second left on the doomsday timer.
Ad blocker interference detected!
Wikia is a free-to-use site that makes money from advertising. We have a modified experience for viewers using ad blockers

Wikia is not accessible if you've made further modifications. Remove the custom ad blocker rule(s) and the page will load as expected.