This article or section is a stub.
You can help the Street Fighter Wiki by expanding it.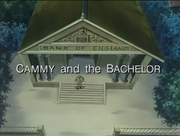 Cammy and the Bachelor is the second episode in the second season of the Street Fighter TV series.
A crime wave has taken over London, and M. Bison is thought to be the one responsible, so Guile, Cammy, and E. Honda team up with the team at MI5 to take M. Bison as well as Birdie and Sodom down. During the fight, M. Bison seemingly takes over Cammy's mind, and she immediately switches allegiances. With a backup plan in full readiness, M. Bison and Cammy manage to escape. This is much to the chagrin of Guile, who screams at them as they fly away.
Ad blocker interference detected!
Wikia is a free-to-use site that makes money from advertising. We have a modified experience for viewers using ad blockers

Wikia is not accessible if you've made further modifications. Remove the custom ad blocker rule(s) and the page will load as expected.