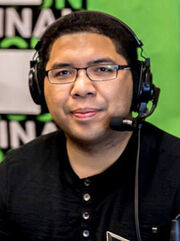 Peter Rosas (also known as Combofiend) is an American former professional gamer, Capcom developer, commentator, and voice actor. He is well known for popularizing the usage of Nathan "Rad" Spencer's Bionic Arm hyper combo in Marvel vs. Capcom 3.
Combofiend left Capcom on October 27th, three weeks after the departure of former Super Smash Bros. Melee tournament organizer Matt Dahlgren (aka Matt Deezie).[1][2]
Competitive gaming career
Edit
Prior to being a developer at Capcom, Combofiend was a professional gamer having competed in fighting games such as Marvel vs. Capcom 2 and Capcom vs. SNK 2.
His most notable results are:
EVO 2002: Marvel vs. Capcom 2 - 3rd
EVO 2005: Capcom vs. SNK 2 - 4th
EVO 2006: Capcom vs. SNK 2 - 3rd
EVO World 2007: Capcom vs. SNK 2 - 7th
EVO 2008 - Capcom vs. SNK 2 - 7th
Final Round 14 - Marvel vs. Capcom 3 - 1st
EVO 2011 - Marvel vs. Capcom 3 - 4th
EVO 2012 - Ultimate Marvel vs. Capcom 3 - 4th
As of late 2012, Combofiend no longer competes in tournaments and now only commentates tournaments.
Role as a Capcom developer
Edit
Combofiend is involved at Capcom as the community manager for the Street Fighter franchise. He was involved in the making of various Street Fighter titles beginning with Ultra Street Fighter IV. He also has a page at Capcom Unity (the official Capcom community and forum site), where he showcases upcoming content for various games in the franchise.
Voice acting
Edit
Combofiend was the official voice of Peter for Street Fighter V having played him for the game's General Story mode.[3]
The Brazilian cop in Street Fighter V, Peter was named after Combofiend's real name, Peter Rosas.
References
Edit
External Links
Edit