This article or section is a stub.
You can help the Street Fighter Wiki by expanding it.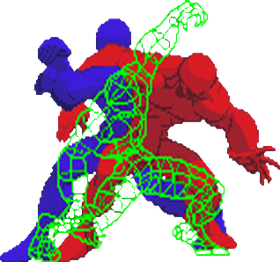 Cycloids (サイクロイド, Saikuroido?) are group of characters that appear in the Street Fighter EX series. They appear as featureless humanoids with their moveset acting as a composite of several other characters.
Appearances
Edit
A blue and a green/red Cycloid, dubbed Cycloid Beta and Cycloid Gamma respectively, appear as bonus unlockable characters in Street Fighter EX Plus α.
Cycloid Beta reappears in Street Fighter EX2 Plus as an unplayable character, acting as a dummy in the Excel Break bonus stage. A pink Cycloid that the player can beat up on also appears during the credits. Using cheat devices to play as Cycloid Beta reveals that it has no hitboxes and cannot hit the opponent or receive damage, unless the opponent is in Excel state. If it tries to throw the opponent, a tech hit will always occur. There is also a red Cycloid (which becomes pink in Excel mode, indicating it is the same one that appears in the credits) and a green one.[1]
Generic grey Cycloids appear in Street Fighter EX3, however they are only available through the use of cheat devices. Unlike the previous game, they are able to hit the opponent as well as receive damage, and the camera will rotate if they attempt to throw. In addition, Ace is also introduced, a character who can be customised with moves from other characters, and essentially replaces the roles Cycloid Beta and Cycloid Gamma provided in Street Fighter EX Plus α.
See also
Edit
References
Edit
Ad blocker interference detected!
Wikia is a free-to-use site that makes money from advertising. We have a modified experience for viewers using ad blockers

Wikia is not accessible if you've made further modifications. Remove the custom ad blocker rule(s) and the page will load as expected.