Dash Low Smash
Talk

0
1,166pages on
this wiki
The Dash Low Smash is one of Balrog's special attacks. It was introduced in Super Street Fighter II Turbo.
Description
Edit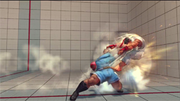 Executed by charging backward then pressing down-forward and kick, the attack is a simple dash forward followed by a suckerpunch to the stomach, with an accompanying "rush of wind" sound effect. The attack will floor an opponent if it hits, and has the Armor Break property, making it good for disrupting the use of
Focus Attacks
.
The strength of the kick button used determines the dash distance and the damage inflicted: the Light Kick version does the least damage and dashes the shortest distance; the Medium Kick version goes a full screen and does more damage; and the Heavy Kick version goes even farther and does the most damage, making it ideal for catching opponents who are trying to jump back to avoid the attack.[1]
In its EX Special version, Balrog will gain Super Armor during the dash, and is the only version of the move that is safe on block.[1]
References
Edit