This article or section is a stub.
You can help the Street Fighter Wiki by expanding it.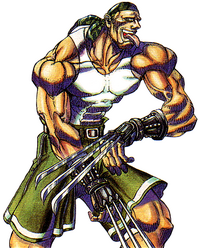 Dirk is a Final Fight characters who first appeared in the Capcom game Final Fight 3. He is one of the minor enemy characters the player characters face.
Appearance
Edit
Dirk is a tall, thin thug who dresses in a white tank top, shorts, and leg warmers. He wears metal claws on his wrists. Dirk wears a bandanna that completely covers his hair.
Fighting style
Edit
Dirk is a little faster and stronger than G, Johnny, Billy, and Ray. He attacks by slashing, thrusting, and doing uppercuts with his claws. He also has a charging attack, which can potentially hit enemies on the opposite side of the screen.