Elena
Talk

0
1,120pages on
this wiki
"Shall we dance?"
—Elena
Elena (エレナ) is a character in the Street Fighter series. She first appeared in Street Fighter III and is voiced by Kaoru Fujino in New Generation and 2nd Impact and by Mie Midori in 3rd Strike.
Biography
Edit
Elena is a princess of an East African nation that has a cultural tradition of fighting. Her father, chief of the region, is a witch doctor who also qualified in France for a doctorate degree in medicine.
Elena desires to travel around the world, meeting new friends along the way. She studied as an exchange student in Japan, where she met her best friend Narumi. She later continued those studies in France.
Appearance
Edit
Elena is uncommonly tall for a female, has dark skin, short silvery-white hair and blue eyes. She is barefoot while fighting and has long, powerful legs with big feet. Her attire consists of a white two-piece bikini-like outfit with pale red, sky-blue, gold and purple bands on her neck, arms, wrists, shins, and ankles.
Much like Gill and his asymmetrical body, her revealing attire and the numerous colorful bands that adorn her body were likely designed by Capcom to display the graphical power of the CPS-3 board.
Personality
Edit
Elena is a young girl with a strong, pure spirit and a cheerful "tomboy" personality similar to Sakura and Ibuki, as she is normally seen smiling or laughing sweetly. While very energetic and golden-hearted, she is also smart, sociable, and culture-adaptative, always eager to learn more about the world, which is part of the reason for her travels. She also has an unusual accent, which she refers to as something she got from her travels around the world in one of her win quotes in 3rd Strike.
Elena's views of fighting and martial arts differ from most due to her light hearted personality allowing her to befriend some people and annoy others.

Other appearances
Edit
Elena has a small but nevertheless important role in the Street Fighter III: Ryu Final manga. She is able to mystically communicate with Ryu via a sacred tree when Ryu was temporarily knocked out during his battle with Dudley. After speaking with Elena, Ryu is able to develop a new technique called "The Fist of the Wind" with which he defeats Dudley. She is last seen travelling in her Japanese high school uniform.
In the UDON comic focused on Ibuki, Elena makes a transfer submission to study in Japan and is accepted, with the acceptance letter citing her exemplary school transcript and many personal references. She transfers to the same school as Ibuki, Makoto and Sarai, albeit in a lower grade than them. She introduces herself to her new school as seeking to befriend martial artists, and is directed towards Makoto, who takes an immediate dislike to her. However Ibuki are more accepting and eventually they are all fast friends. It is here that she also meets Narumi (who introduces herself as Naru).
Along with Makoto and Sarai, Elena watches Ibuki complete her ninja exam on Mt. Atago, and afterwards is ambushed by the Geki ninja clan. The girls fight their way out of captivity and rush to save the burning Glade of Ninjas.
Elena appeared in Street Fighter X Tekken (as a DLC character in the console and PC versions and as default in the PS Vita version), making her first 3D debut. Her partner is Dudley.
Gameplay/Fighting Style
Edit
Elena's fighting style, Capoeira, is of West African and Brazilian origin. The style utilizes her strong, long legs to execute dance-like moves and fancy legwork. As such, her moveset consists entirely of kicks and leg throws. She is the only Street Fighter character to use only kicks, in contrast to Dudley and Balrog, who only use upper-body based attacks (i.e. punches, etc.).
Elena is one of the few Street Fighter characters who has the ability to regenerate her health; the only other such occurence within the main series is in Street Fighter Alpha 3, when Juni and Juli fight together as an AI-controlled sub-boss team, and can also heal themselves. Outside of the main series, in the Street Fighter: The Movie game released for home consoles, all characters had the ability to restore health.
Elena has similar traits to Dee Jay. They are both dark-skinned (Dee Jay is of Caribbean descent and Elena is African), they are happy-go-lucky fighters, they fight using dance moves and talk about rhythm and beat in their win quotes.
Pullum from the Street Fighter EX series is similar to Elena; they are both dark-skinned females (Pullum is Arabian while Elena is African) and they both fight using dance moves.
Stage Theme
Edit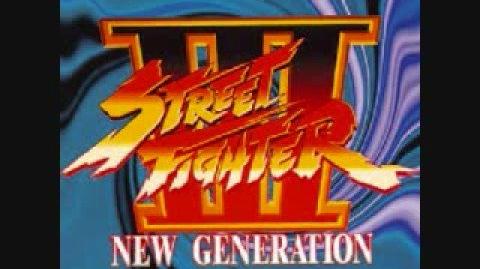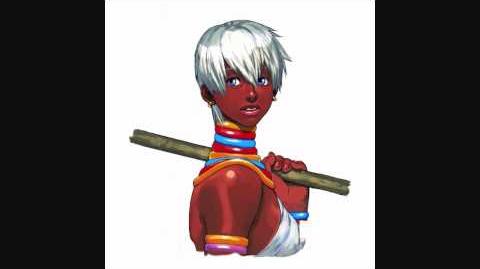 Elena's moves in Street Fighter III: 3rd Strike