Feng Shui Engine
Talk

0
1,195pages on
this wiki
The Feng Shui Engine (風水エンジン, Fuusui Enjin) is a miniaturized Tanden Engine which is the size of a human eyeball. The owner of this object is Juri, who uses it in both of her Ultra Combos in Super Street Fighter IV, even being the focus of one.
Capabilities
Edit
The limits and full potential of the engine have not been fully revealed; however, during her second Ultra Combo in Super Street Fighter IV, the engine gives her an amazing speed boost. In the 35-minute OVA (Original Video Animation) which focuses on Juri's past, she quickly overcomes Chun-Li, Guile and Cammy all at once while under its influence. The anime also shows that it cannot be used for extended periods of time (likely reflected in the time limit of her first Ultra Combo in the games); this limitation was removed later in the animation by S.I.N. scientists.
As a plot element
Edit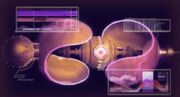 The Feng Shui Engine was implanted in Juri's left eye socket when she was a young teenager. It acts as a replacement for her left eye, which had been badly damaged when her family was attacked and her parents assassinated by
Shadaloo
. Developed by
S.I.N.
, the device enhances her fighting potential.
As a special attack
Edit
Juri uses the eponymous eye during her first Ultra Combo in Super Street Fighter IV.
Description
Edit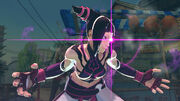 Executed by pressing two quarter-circle forward motions and all three punch buttons, Juri's Feng Shui eye glows in a purplish light ("Now you shall know my true potential!" or "I'm through fooling around!", depending on the language setting) as she licks her lips sinisterly. The move itself causes the
Revenge Gauge
to become a timer gauge, which counts down from the point it had been filled to. Until the time elapses, Juri draws upon the power of the Feng Shui Engine inside her eye and becomes capable of canceling and chaining many more attacks than she could otherwise, which means that almost all of her attacks are combo-able. This state is sometimes referred to as her "
Custom Combo
mode" - also not unlike
Rose
's
Soul Illusion
in
Street Fighter Alpha
series -, since Juri can create almost any combo she pleases, although not to the extent of
Yun
and
Yang
under the influence of
Genei Jin
and
Seiei Enbu
respectively.