This article pertains to a recent, planned or upcoming release, and may even appear to be a stub. You can help the Street Fighter Wiki by filling out and expanding the article. Please remember to source everything added, especially as more information is released.

Arika EX is the working title for an upcoming fighting game being developed by Arika. The game, also known by its other working title Fighting EX Layer, is planned to be a spiritual successor to the company's previous fighting games, the Street Fighter EX series and Fighting Layer. The game will be released in 2018 for the PlayStation 4, with a limited beta test period at the end of 2017.
The gameplay retains many of the mechanics from Arika's previous fighting games, such as Super Cancels, with the addition of running and the ability to sidestep. The fights take place in closed arenas, which also vary in size and width.
Characters
Edit
Development
Edit
A gameplay video was released on April 1st 2017 (April Fools' Day) as a way to hide the game's announcement.[1] It was later confirmed that the game is indeed in development, and an event was held where the game could be beta tested.[2] The current build is a proof-of-concept and it doesn't have a publisher yet. An official trailer was shown at EVO 2017.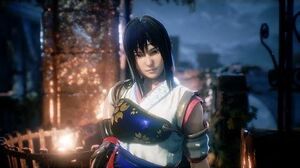 References
Edit
↑ http://shoryuken.com/2017/03/31/its-real-check-out-arikas-livestream-of-their-new-street-fighter-exfighting-layer-based-fighter/
External Links
Edit
Ad blocker interference detected!
Wikia is a free-to-use site that makes money from advertising. We have a modified experience for viewers using ad blockers

Wikia is not accessible if you've made further modifications. Remove the custom ad blocker rule(s) and the page will load as expected.