Fire Force (ファイヤーフォース, Faiyā Fōsu?) is one of Allen's Super Combos, introduced in Street Fighter EX.
Description
Edit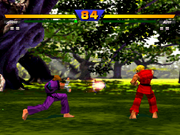 The Fire Force is a more powerful version of the Soul Force. It is his counterpart to the Shinku Hadoken. It also resembles a Shakunetsu Hadoken in both appearance and effect, as it sets Allen's opponent on fire when it connects.
Ad blocker interference detected!
Wikia is a free-to-use site that makes money from advertising. We have a modified experience for viewers using ad blockers

Wikia is not accessible if you've made further modifications. Remove the custom ad blocker rule(s) and the page will load as expected.