This article or section is a stub.
You can help the Street Fighter Wiki by expanding it.
For the enemy character from the original Final Fight, see G. Oriber.
For the playable character in Street Fighter, see G (Street Fighter).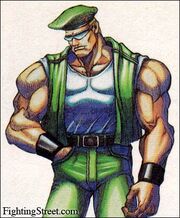 G and Johnny are Final Fight characters who first appeared in the Capcom game Final Fight 3. They are some of the minor enemy characters the player characters face.
Appearance
Edit
G and Johnny are thin thugs who wear boots, black wristbands, and matching pants and vests with white undershirts. G has a black pompadour, and Johnny wears shades and a beret.
Fighting style
Edit
G and Johnny are the lowest-ranking members of the Skull Cross Gang; as such, they pose practically no threat. They have little health and only two attacks: a kick, and a slightly faster and stronger punch.
G was black in the Japanese version of Final Fight 3, but his skin tone was lightened in the international version.[1]
References
Edit