Galaxy (ギャラクシー, Gyarakushī?) is one Allen's Super Combos in Fighting Layer. It also appears in Street Fighter EX3, as one of Ace's Meteor Combos. The move is known for its difficult input and strict timing.
Allen's versions are known as Rushing Assault (ラッシングアサルト, Rasshingu Asaruto?) and Rushing Raid (ラッシングレイド, Rasshingu Reido?).
Description
Edit
Allen does a pose. If the follow-ups are performed correctly, he attacks with four punches in rapid succession followed by a powerful flying kick (Rushing Assault). Allen falls down after the kick, and then he gets up and does a pose as the opponent falls to the ground.
Allen can also perform a simplified version (Rushing Raid) if he does the initial input with

instead of

. This version performs the rest of the attacks automatically, but it does significantly less damage, and it however he is strong enough to knocking the opponent away after the fourth punch.
Ace's version (Galaxy) is mostly the same as the Rushing Assault, except that it omits one of the inputs, and he starts attacking as soon as the move is initiated.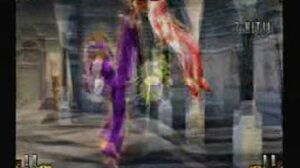 Ad blocker interference detected!
Wikia is a free-to-use site that makes money from advertising. We have a modified experience for viewers using ad blockers

Wikia is not accessible if you've made further modifications. Remove the custom ad blocker rule(s) and the page will load as expected.