This article or section is a stub.
You can help the Street Fighter Wiki by expanding it.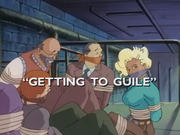 "Getting to Guile" is the third episode in the first season of the Street Fighter TV series.
Dee Jay relays to Escher and Chun-Li that he and Guile were ambushed by M. Bison and Zangief, and that Guile was captured. Bison hooks Guile into a mind-probing device to find his Achilles heel, so he can reprogram Guile to destroy the rest of the Street Fighters.
Meanwhile, Chun-Li rallies Blanka, Dee Jay, Ryu and Ken to go to Guile's aid and infiltrate Bison's stronghold. After battling many mutants, the team rescues Guile and reminds him of the street fighter code: discipline, justice, and commitment.
Ad blocker interference detected!
Wikia is a free-to-use site that makes money from advertising. We have a modified experience for viewers using ad blockers

Wikia is not accessible if you've made further modifications. Remove the custom ad blocker rule(s) and the page will load as expected.