This article or section is a stub.
You can help the Street Fighter Wiki by expanding it.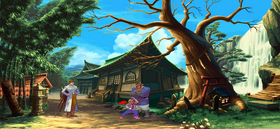 The Glade of Ninjas (忍びの里, Shinobi no Sato?, "Shinobi Village") is a village of ninjas hidden in Japan.
Known Members
Edit
Sarai Kurosawa
Edit
Enjo is a member of Ibuki's clan and a resident of the Glade of Ninjas. He dresses like an archetypical ninja.
Genda is a young man who lives in the Glade of Ninjas. He can be recognized by his shaved head. He is equipped with a claw.
Raion is a ninja who lives in the Glade of Ninjas. Being big and muscular, the carpenter look suits him quite well.
Sanjou is a tall ninja who lives in the Glade of Ninjas. He is usually dressed like a scholar. In the Super Street Fighter comic he is shown to be a friend of Guy.
Yuta Homura
Edit
Yuta Homura (焔悠鉈, Homura Yūta?) is a member of the Glade of Ninjas. He wears a cloth on his head and is about the same age as Ibuki, training with her and Sarai. He is a hot-blooded and gets emotional quite easily. He is good at taijutsu, but his ninjutsu is extremely weak. He is also very good at beat 'em up games, being apparently able to clear a game with Mack the Knife with a single coin.
He occasionally appears before fights of Ibuki's in 
Street Fighter III
.
References
Edit
Ad blocker interference detected!
Wikia is a free-to-use site that makes money from advertising. We have a modified experience for viewers using ad blockers

Wikia is not accessible if you've made further modifications. Remove the custom ad blocker rule(s) and the page will load as expected.