This article or section is a stub.
You can help the Street Fighter Wiki by expanding it.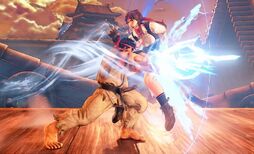 Hashogeki (波掌撃 Wave Palm Attack) is Ryu's V-Reversal , introduced in Street Fighter V. By blocking an attack, the front command is done by pressing the equivalent button for the three punches. Hashogeki is basically a projectile the same as the Hadoken only released faster, doesn't leave the hands. The attack knocks the opponent back, giving Ryu space.