This article or section is a stub.
You can help the Street Fighter Wiki by expanding it.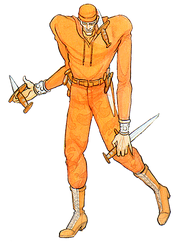 Holly Wood is a Final Fight character and a member of the Mad Gear Gang.
He is El Gado's palette swap, nicknamed for his singing and dancing talents. Like El Gado, Holly Wood is a tall, thin, agile enemy, who is one of Rolento's foot soldiers and a knife expert, throwing them at the player. 
He has broad shoulders and wears an outfit similar to that of his palette swap, but lacks facial hair and is always seen with a beanie. In Final Fight, his clothing was usually in orange, but in the Street Fighter Alpha series, he wears a dull yellow outfit with a red beanie. In one of the original artworks for Final Fight, though, his outfit is green. He is 6'6" and weighs 228 lbs.
On some occasions, he came dressed in red and brandishing Molotov cocktails, which he threw at the heroes just before leaving. This version was much weaker than usual, and required only one hit to be killed off.