The Hou Shou (崩掌, Hou Shou? "Crumbling Palm") is one of Karin's special attacks, introduced along with her in Street Fighter Alpha 3.
Input

| | |
| --- | --- |
| All appearances | + (or + during Guren Ken) |
Description
Edit
Executed by performing a Shoryuken motion? and pressing punch (or by pressing forward and punch after any of the Guren Ken's two hits), Karin performs a quick palm strike that knocks the opponent away, withdrawing slightly after.
If done from her Guren Ken as stated above, it is referred to as the Guren Hou Shou (紅蓮崩掌, Guren Hou Shou? "Crimson Lotus Crumbling Palm").
The "followup" version has slightly better recovery than the "stand-alone" version, though the latter still deals solid damage. Karin's movements also make it a decent poke and potential punisher; during her Guren Ken, it is possible to avoid punishment with proper spacing and timing.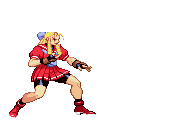 Ad blocker interference detected!
Wikia is a free-to-use site that makes money from advertising. We have a modified experience for viewers using ad blockers

Wikia is not accessible if you've made further modifications. Remove the custom ad blocker rule(s) and the page will load as expected.