Jaguar Avalanche
Talk

0
1,119pages on
this wiki
The Jaguar Avalanche is Adon's second Ultra Combo in Super Street Fighter IV.
Description
Edit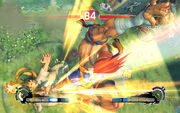 Executed by pressing two quarter-circle forward motions and all 3 kicks, Adon throws two
Rising Jaguars
, and if they land, he follows up with a slow, charging and strong
Jaguar Kick
. Adon then jumps onto the opponent's shoulders and strarts to deliver a combination of fierce strikes to their head, laughing in a sadistic manner. He then knocks them down and finishes them off with a brutal stomp to the chest.
Jaguar Avalanche can be used as an anti-air, and is also considered the better Ultra for Adon, due to it having more combo advantages.