This article or section is a stub.
You can help the Street Fighter Wiki by expanding it.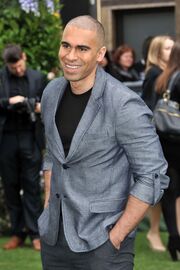 Joey Ansah is an Ghanaian British actor and martial artist who co-wrote and co-directed Street Fighter: Legacy and also appeared in the short film as Akuma. His other notable roles include Desh in The Bourne Ultimatum.
Ansah is the creator and co-writer of the TV series, Street Fighter: Assassin's Fist, where he once again plays Akuma. He retains his role in the upcoming mini series, Street Fighter: Resurrection and the second season, Street Fighter: World Warrior.
Ad blocker interference detected!
Wikia is a free-to-use site that makes money from advertising. We have a modified experience for viewers using ad blockers

Wikia is not accessible if you've made further modifications. Remove the custom ad blocker rule(s) and the page will load as expected.