Kikosho Goku (気功掌・極, Kikou Shou Goku?, "Qigong Palm Extreme") is Chun-Li's Level 3 Super Combo in Street Fighter EX2 (where it was named Max Kikosho). In Street Fighter EX2 Plus, it became her Meteor Combo.
Description
Edit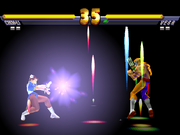 Executed by performing the same command except pushing all three punches instead of one, Chun-Li uses the Kikosho at its full power and inflicts much greater damage than the normal Kikosho, which resembles the one from the crossovers that covers much in front of Chun-Li. The energy sphere, unlike the usual Kikosho, compresses overtime.
Ad blocker interference detected!
Wikia is a free-to-use site that makes money from advertising. We have a modified experience for viewers using ad blockers

Wikia is not accessible if you've made further modifications. Remove the custom ad blocker rule(s) and the page will load as expected.