Forbidden Shoryuken
Talk

6
1,166pages on
this wiki
The Forbidden Shoryuken (禁じ手・昇龍拳, Kinjite Shoryuken, "Forbidden Rising Dragon Fist") made its debut in the Street Fighter Alpha series as one of Ryu's Super Combos. The Super Combo is later used by Gouken in the Street Fighter IV series.
Both Gouken and Ryu also perform the move if they should miss the initial midsection strike of the Shin or Metsu Shoryukens.
Description
Edit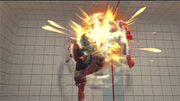 The Forbidden Shoryuken is simply a multi-hitting
Shoryuken
, with Gouken's version delivering the most at eight. These give both Ryu and Gouken the opportunity to use it as an anti-air of sorts, especially if they should mistime their Super/
Ultra Combo
. However, the move possesses a significant recovery, much longer than that of a Fierce Shoryuken, making the move very punishable.