Kongou Kokuretsuzan
Talk

0
1,166pages on
this wiki
"The ultimate technique. "Kongou-kokuretsuzan". The might of the heavens resides in my fist.... Humans.... All walks of life!! It begins with the power of my savage attack!"
—Akuma in Street Fighter III: 2nd Impact
The Kongou Kokuretsuzan (金剛國裂斬, "Land Rending Vajra Slash"), commonly referred to as simply KKZ, is one of Akuma's Super Arts in Street Fighter III: 3rd Strike.
Description
Edit
Executed by pressing down three times and pressing two punch buttons, Akuma puts his hand up and charges it with ki. Then, he violently slams his fist on the ground which results in an explosion of pure energy, which first takes the form of a lightning bolt and then emanates outwards in a shock wave of energy. It is possibly similar to Geese Howard's Raging Storm, though in SNK vs. Capcom: The Match of the Millennium, this move can be performed with a Raging Storm-type motion (down-back, half circle back, down-forward).
Like the Shungokusatsu, the attack is a secret Super Art, as it can be used no matter which Super Art was chosen at the character select screen, and uses up the whole super gauge. This means that in 3rd Strike, in any given match, Akuma has access to three Super Arts, making him extremely dangerous. In addition, the Satsui no Hado taunt can also increase its lethality, making it even more powerful. While the attack can be blocked, the initial lighting bolt cannot be parried. The vortex of energy that is generated afterwards however, can be 'red parried' after blocking the initial bolt. Finally, even when Akuma's own fist does not hit the foe, the pure energy shock wave as an aftermath will still inflict a great amount of damage if they are within its vicinity.
Akuma developed the move over many years, and mastered it only by the end of Street Fighter III: 2nd Impact.[1] He is its only master, and considers it to be his ultimate technique, with the "power of the heavens" residing in his fist.[1] It is confirmed that this is the move Akuma uses after fighting Ryu on his tiny island to crush it into pieces, displaying the lethality of the attack.
Application
Edit
The Kongou Kokuretsuzan is a very handy move to possess. Since Akuma has no EX Specials, it is easy for Akuma to build up two stocks of Super Gauge. By itself this move can be used as an anti-air. It can also be used a counter to specific attacks due to its extremely high amount of invincible frames during which Akuma can neither be hit nor thrown. This move is virtually useless in combos due to its startup time. However, this move can be used as a reset (e.g., after a Short Tatsumaki Zankuukyaku into a standing Jab).
One of its most useful application is as a compliment to the Raging Demon. The player can create ambiguous setups where the opponent is led to believe he is using the Raging Demon i.e. dashing in, etc., prepping the opponent to counter-attack with either weak punches, throws, special moves or neutral or forward jumps which instead can be countered with the Kongou Kokuretsuzan. If the opponent jumps back, the player can proceed with the Raging Demon instead.
Provided the entire move of the initial bolt and following aftershocks connect, it can do an extremely high damage of around 60% of the opponent's health (compared to the 40% for the Raging Demon), and almost rivals Gill's 65-70% on his Super Arts. This move is also very useful against the CPU controlled Gill, provided the player is quick to react. If used properly can knock him out of the Meteor Strike and Seraphic Wing. The initial bolt is one of the rare energy attacks that breaks right through Gill's force field during Resurrection, and is guaranteed to stop the move and instantly K.O. him out of it by nullifying his recovered health.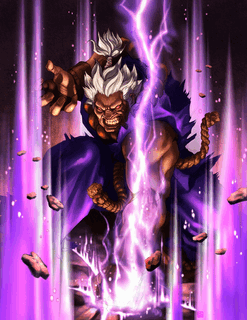 References
Edit