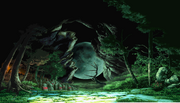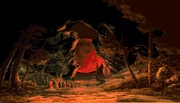 Kousyu Street is Akuma's stage in Street Fighter III: 3rd Strike. An old flagstone road which passes through a cave with trees and rocks by the wayside in Japan, adorned with jizō statues in the countryside. It has two versions which differ slightly in coloration: in the "1:55 AM" version when Akuma is fought in his normal form, a full moon glows in the background; but in the version when Akuma is fought in his "Shin" form, a lunar eclipse occurs, casting a red glow across the stage.
The stage is likely to have been based on the area in Street Fighter Alpha: The Animation, known to Ryu and Ken as the place where Akuma can be found and where Ryu and Chun-Li approach Akuma for answers about Shun's lineage; this area also contains wooden statues which Akuma shatters with ki from an unseen position and which appear to move ominously in response to Akuma's presence.
Ad blocker interference detected!
Wikia is a free-to-use site that makes money from advertising. We have a modified experience for viewers using ad blockers

Wikia is not accessible if you've made further modifications. Remove the custom ad blocker rule(s) and the page will load as expected.