The Lightning Cannonball (ライトニングキャノンボール, Raitoningu Kyanonbooru?) is Blanka's first Ultra Combo in the Street Fighter IV series. It is effectively a more powerful, electrified version of his Super Combo, the Ground Shave Roll.
Input

| | |
| --- | --- |
| All appearances | + ( to control the timing) |
Description
Edit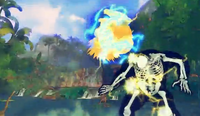 Executed by charging backward then pressing forward, backward, forward and all three punch buttons, Blanka crouches, electrifies himself, then somersaults forward into a rolled-up position on the ground. If the player has not let go of the punch buttons, Blanka will remain there, rapidly spinning in place while electrified, until the punch button is released or until a small time limit elapses. Once one of these occur, or if the player did not hold down the punch buttons at all, Blanka will immediately roll forward a short distance, bowling-style, enveloped in electric energy.
As with the Ground Shave Roll, the attack is difficult to use correctly due to the precise timing and planning required; one way of ensuring that the second half of the move is not blocked is to execute it at extremely close range; the initial somersault will send the foe flying, and the ability to delay the follow-up roll allows Blanka to wait until the opponent is on the way down.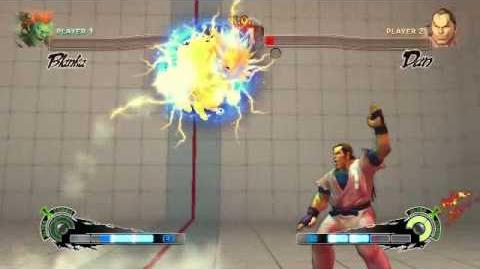 Ad blocker interference detected!
Wikia is a free-to-use site that makes money from advertising. We have a modified experience for viewers using ad blockers

Wikia is not accessible if you've made further modifications. Remove the custom ad blocker rule(s) and the page will load as expected.