The Lightning Mole is one of Blanka's special attacks, exclusive to the OMEGA Mode in Ultra Street Fighter IV.
Input

| | |
| --- | --- |
| Blanka | + |
Description
Edit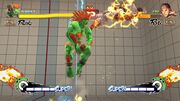 Executed by performing a Shoryuken motion and pressing punch, Blanka will envelop himself in electricity and disappear into the ground before emerging in a pillar of lightning, taking the opponent with him. The distance emerged is determined by the punch button pressed.
The EX Special version auto-targets the opponent and finishes with a headbutt.
Blanka cannot be hit while he is underground, making it useful for punishing zoning attacks.
Ad blocker interference detected!
Wikia is a free-to-use site that makes money from advertising. We have a modified experience for viewers using ad blockers

Wikia is not accessible if you've made further modifications. Remove the custom ad blocker rule(s) and the page will load as expected.