List of moves in Street Fighter X Tekken
Talk

0
Share
Ad blocker interference detected!
Wikia is a free-to-use site that makes money from advertising. We have a modified experience for viewers using ad blockers

Wikia is not accessible if you've made further modifications. Remove the custom ad blocker rule(s) and the page will load as expected.
This article may or may not be a stub, but it's definitely missing something.
Specifically: space out the plus symbols properly, and recreate tables with less code if possible.
You can help the Street Fighter Wiki by giving us what we need.
Street Fighter characters
Edit
| Move Name | Input |
| --- | --- |
| Collarbone Breaker | + |
| Solar Plexus Strike | + |
| Hadoken | + |
| Shoryuken | + |
| Tatsumaki Senpukyaku | + |
| Joudan Sokutogeri | + |
| Super Art: Shinku Hadoken | + |
| Move Name | Input |
| --- | --- |
| Inazuma Kick | + |
| Forward Step Kick | + |
| Thunder Kick | + (hold to feint) |
| Target Combo | while near opponent, , |
| Hadoken | + |
| Shoryuken | + |
| Tatsumaki Senpukyaku | + |
| Super Art: Shippu Jinraikyaku | + |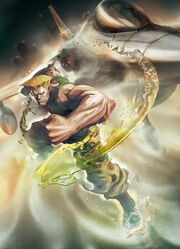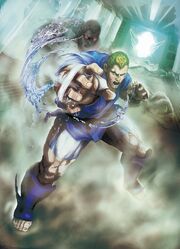 Move Name
Input
Change of Direction
+ (varied followup)
Wheel Kick
+
Marseilles Roll
+
Falling Sky
+
Tornado Throw
+
Shoulder Tackle
+
Super Art: Breathless
+

Cross Arts:

Heartless
+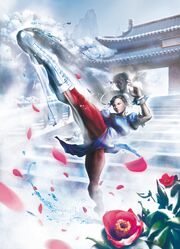 Move Name
Input
Hyakuretsukyaku
+
Kikoken
+
Hazanshu
+
Spinning Bird Kick
+
Super Art: Senretsukyaku
+

Cross Arts:

Hosenka
+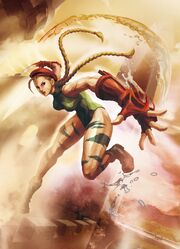 Move Name
Input
Spiral Arrow
+
Cannon Spike
+
Quick Spin Knuckle
+
Cannon Strike
+ (while jumping forward)
Hooligan Combination
+ (varied followup)
Super Art: Spin Drive Smasher
+

Cross Arts:

CQC
+
Move Name
Input
Yoga Fire
+
Yoga Flame
+
Yoga Blast
+
Yoga Teleport
or + or
Super Art: Yoga Inferno
+
Super Art: Yoga Volcano
+

Cross Arts:

Yoga Strike
+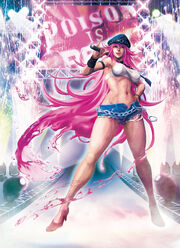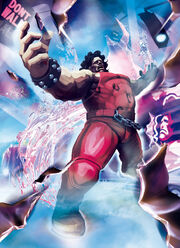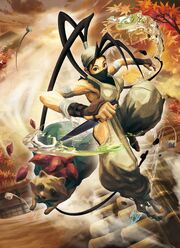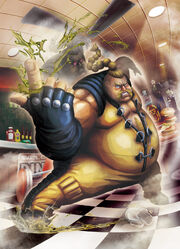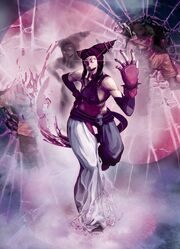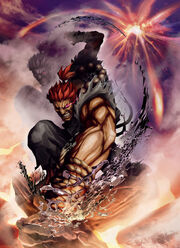 | Move Name | Input |
| --- | --- |
| Flower Kick | + |
| Hadoken | |
| Shouoken | + |
| Shunpukyaku | + |
| Sakura Otoshi | |
| Super Art: Haru Ranman | + |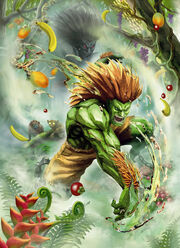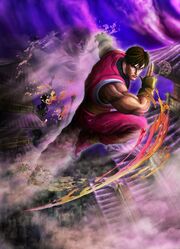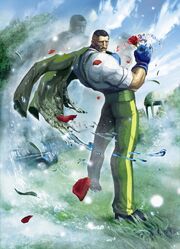 Tekken characters
Edit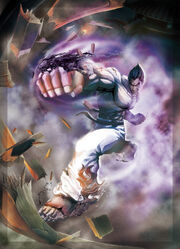 | Move Name | Input |
| --- | --- |
| Flash Punch Combo | |
| Demon Slayer | |
| Demon God Fist | + |
| Mist Step | , |
| Dragon Uppercut | after Mist Step, |
| Spinning Demon | after Mist Step, , then |
| Spinning Demon Uppercut | after Mist Step, , then |
| Slaughter Hook | + |
| Slaughter High Kick | + |
| Devastator | + |
| Rising Sun | + |
| Super Arts: Devil Beam | + |
| Move Name | Input |
| --- | --- |
| Blonde Bomb | + |
| Skull Splitter | + |
| Geyser Cannon | + |
| Rolling Dash | + |
| Backhand Slap | after Rolling Dash, |
| Arm Break | after Backhand Slap, |
| Double Arm Break | after Arm Break, |
| Super Arts: Double Explosion | |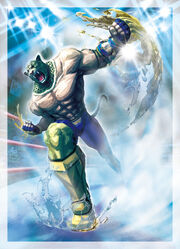 | Move Name | Input |
| --- | --- |
| Jaguar Step | |
| Lariat | after Jaguar Step, |
| High Elbow Drop | after Jaguar Step, or |
| Water Surface Kick | after Jaguar Step, |
| Dragon Screw | + or |
| Running Jaguar Bomb | + |
| Konvict Kick | + |
| DDT | after Konvict Kick, |
| Reverse Arm Slam Combo | + |
| Giant Swing | + |
| Tomahawk | + |
| Super Arts: Wonderful Mexican Special Combo | |
| Super Arts: Muscle Break | after Wonderful Mexican Special Combo (2nd hit), + |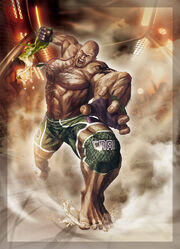 | Move Name | Input |
| --- | --- |
| Gator Slam | + |
| Northern Lights Suplex | + |
| Double Leg Take Down | + |
| Mount Mongolian Chop | after Double Leg Take Down, |
| Hercules' Hammer | after Double Leg Take Down, |
| Super Arts: Mount Rush | |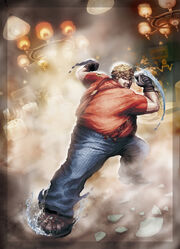 | Move Name | Input |
| --- | --- |
| Giga Jacker | + |
| Spinner Ball | + |
| Lyonnaise Break | after Spinner Ball, |
| Perfect Press | after Spinner Ball, |
| Panini Flip | after Spinner Ball, + |
| Cracker | |
| Pound Cake | after Cracker, |
| Cracker Jacker | after Cracker, |
| Special Step | + (varied followup) |
| Super Arts: Giga Meteo | |
| Move Name | Input |
| --- | --- |
| Swift Step | + |
| Lashing Arrow | + |
| Swift Step Explosion | + |
| Rising Kick | + |
| Wind Roll | + |
| Tequila Sunrise Elbow Smash | after Wind Roll, , |
| Hunting Tomahawk | after Wind Roll, , |
| Wind Roll Explosion | |
| Tiger Strike | + |
| Super Arts: Iron Mountain Rush | |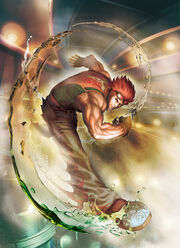 | Move Name | Input |
| --- | --- |
| Special Step | + |
| Sky Rocket | + |
| Hunting Hawk | + |
| Air Raid | + |
| Air Raid Special | after Air Raid, + |
| Dynamite Heel | + |
| Super Arts: Heel Explosion Combo | |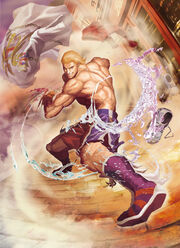 | Move Name | Input |
| --- | --- |
| Weaving A | |
| Weaving B | |
| Hellfire | + |
| Flicker Stance | + |
| Flicker Jab | during Flicker Stance, |
| Peekaboo | + |
| Ducking | + , |
| Sonic Fang | + |
| Swaying | + |
| Super Arts: Hellfire Rush | |
Yoshimitsu
Edit
| Move Name | Input |
| --- | --- |
| Flea | + |
| Jumping Flea | during Flea, |
| Flea Release | during Flea, |
| Sliding Headbutt | during Flea, |
| Gehosen | + |
| Slap U Silly | + ... |
| Stone Fists | + ... |
| Sword Poke Windmill | + |
| Poison Breath | + |
| Suicide | + |
| Indian Stance Vacuum Dance | |
| Super Arts: Sword Poke Whirlwind | |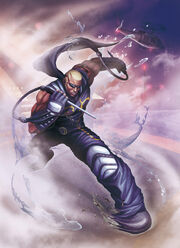 | Move Name | Input |
| --- | --- |
| Storm Bringer | + , or |
| Skull Smasher | + , |
| Skull Smasher Feint | + , |
| Skull Smasher Feint Low | + , |
| Cross Ninja Stars | + |
| Alter Ego | + |
| Wind Cross | + |
| Haze | or + or |
| Super Arts: Doppelganger | |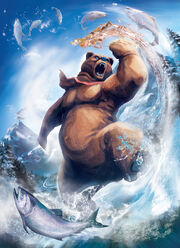 | Move Name | Input |
| --- | --- |
| Frolicking Bear | + |
| Rock N' Roll Circus | + |
| Megaton Claw | + |
| Grizzly Claws | after Megaton Claw, |
| Grizzly Claw Smash | after Megaton Claw, or |