Makoto
Talk

3
1,175pages on
this wiki
Makoto 

Makoto as she appears in Super Street Fighter IV.
Makoto
Birthdate
July 1[1]
Birthplace
Japan[1]
Height
5' 3" (160 cm)[1]
Weight
110 lbs (50 kg)[1]
Eye color
Brown
Hair color
Black
Blood type
B[1]
Fighting style
Rindo-kan Karate[1]
Likes
Family[1]
Dislikes
Crimson ginger[1], being mistaken for a boy (due to her overall appearance and lack of fashion sense)
Rival(s)
Fei Long (SSFIV) , Ibuki (SF Legends:Ibuki), Elena (SF Legends:Ibuki) , Ryu (SFIII:3S)
Moveset
Fukiage, Hayate, Oroshi, Karakusa, Tsurugi, Tanden Renki, Seichusen Godanzuki, Abare Tosanami
First game
Street Fighter III: 3rd Strike
English voice actor(s)
Jessica D. Stone (Super Street Fighter IV)
Japanese voice actor(s)
Makoto Tsumura (Street Fighter III: 3rd Strike, Super Street Fighter IV)
"I know I'm still young, but fighters in training really have the desire to win!"
—Makoto
Makoto (まこと, meaning "Truth") is a character in the Street Fighter series. She first appeared in Street Fighter III: 3rd Strike and is voiced by Makoto Tsumura. She is a playable character in Super Street Fighter IV.[2]
Biography
Edit
Background
Edit
Makoto is a young Japanese tomboy, raised in the rural Tosa region of Japan[3] and trained in Rindo-kan karate. Although having little fashion sense for a girl her age, she still hates when she is mistaken for a boy. She develops something of a rivalry with kunoichi Ibuki, as shown by their alternate opening when they fight each other.
Appearance
Edit
Makoto sports a European cut karate gi with a minor patches. Underneath, she wears a red bra. Around her neck is a long, yellow hachimaki (headband) that hangs down behind her back. Her hair is short and somewhat messy, and she walks barefoot. Her body is very well-built for her age, having large arms, legs, hands, and feet.
Personality
Edit
Makoto appears to be tomboyish and brash, and is very competitive, always looking forward to new challenges; she often accuses her opponents of sandbagging if the fight feels too easy.
Makoto hates when people mistake her for a boy, even though she is fighting and competing all the time. She loves the heat of battles and most of all: she fights to revive the honor of her father´s dojo. Makoto fears no one and challenges who or whatever her opponent is. While Makoto is still young and inexperienced, many fighters are impressed by her skill and power, and urge her to continue her training.
Since her father's death, Makoto's dojo has been floundering and her older brother decided to become a businessman, leaving Makoto to elevate her dojo back to its former glory. Horrified to discover the decrepit state the dojo is in, she first enters S.I.N.'s tournament in order to win money to renovate it. During the tournament, she encounters and fights Fei Long in the hopes that the publicity will enhance Rindo-kan's reputation. In her ending she says that she "beats the pants off" of all her opponents - however, she didn't win any money since the tournament sponsor, Seth was killed and S.I.N. disbanded. She decides to rebuild her father's dojo by hand, and make money the old-fashioned way. [4]
Ultimately, she finds Ryu and challenges him to enhance her dojo's reputation. After her fight with Ryu, the publicity attracts a swarm of potential students to her dojo.
Other appearances
Edit
In UDON's third Street Fighter Legends comic, Makoto's surname is given as Kato, and she transfers to a high-school near the dojo at the beginning of her senior year. She is in the same class as Ibuki and Sarai, and when her teacher introduces her she declares that she is the master of the Rindo-kan dojo, to the laughter of the class. She then declares her intention to defeat every fighting style in order to demonstrate the superiority of Rindo-kan.
It isn't long before she gets into a fight, and when she knocks her antagonist out, Ibuki sees a large classmate about to attack her from behind. Ibuki intervenes by throwing a kunai handle-first at him, which knocks him out as well. The only one who notices Ibuki's intervention is Makoto, who chases after her and, sensing that Ibuki is a strong martial artist, challenges her to a fight after school. However, after school a Geki clan ninja ambushes Ibuki, preventing the fight.
Makoto issues written challenges to "a few thousand" dojos, however Dan Hibiki is the only one to come to her dojo and answer the challenge. Makoto thrashes Dan soundly and sends him through the roof of the dojo with a Seichusen Godanzuki, and crosses him off the list. Ibuki then appears and Makoto reissues her challenge, insulted that Ibuki ditched their battle. Ibuki tells her that she cannot fight her as she wants to keep a low profile and not draw attention to herself, and promises to fight her later. Makoto is satisfied with this, and exactly 21 minutes later Ibuki marvels to herself about how friendly Makoto has immediately become.
Elena then transfers to their school, announcing a desire to make friends with warriors. A classmate informs her that Makoto is a "warrior woman" and Elena immediately hugs her, much to Makoto's irritation.
Elena's attempts to befriend Makoto and Ibuki are rebuffed at first as Makoto declares that Elena is "in a lower grade than us, and we don't LIKE you". However, Ibuki is more accepting and eventually the three are inseparable (much to Sarai's jealousy).
Eventually, Ibuki's teachers give her her final ninja exam: she must challenge Oro, who has embarked on one of his occasional journeys from Brazil and is in the shrine on Mt Atago. Makoto and Elena help Ibuki train and Makoto reveals that her father once brought a handful of his best pupils to challenge Oro, and that they were no match for the ancient master, even when he invited them to all attack him at once.
When Ibuki goes to fight Oro, Makoto tags along (as well as Elena and Sarai). After a brief sparring session, Oro tells her that they are done as he doesn't want to hurt her, but acknowledges her strength, admitting that he thought about using both hands. Makoto then steps forward and challenges Oro in order to reclaim her father's honor after the humiliation years ago, but Oro refuses, saying that she is not ready and that her anger would prevent her from fighting effectively, but says "perhaps another time". Makoto tearfully accepts this, thanks him and walks away.
On their way back they run into another Geki ambush, and are caught in a net. However, Makoto has no patience for this, turns bright red with anger and begins assaulting the Geki from within the net, dragging the others with her. Eventually they are freed from the net and defeat the Geki, then rush off to 'The Glade of Ninjas' which they can see burning in the distance. There, they defeat the rest of the Geki.
After graduation from high school, Ibuki goes to university and Makoto focuses on her dojo full-time. Ibuki tells her that she's ready for their fight now.
Gameplay/Techniques
Edit
Makoto possesses a boisterous and aggressive fighting style, characterized by powerful punches and kicks, as well as formidable karate techniques such as chops and throws. She has particularly powerful and brutal attacks, such as choking her opponent to momentarily stun them or even punching them in groin area for one of her Super Arts/Ultra Combos.
Makoto shares her name with her seiyū, Makoto Tsumura.
The English voice recording for Makoto in Super Street Fighter IV was considered a challenging task, because she uses a specific Japanese dialect (Tosan).
Although not officially confirmed by Capcom in any way, the character of Retsu is similar to her in terms of fighting style, involving traditional Japanese martial arts with no fireballs, and his stage background in the original Street Fighter is similar to Makoto's stage background in Street Fighter III: 3rd Strike.
Makoto's ending in 3rd Strike shows her standing in front of a pile of defeated fighters; among them are Cammy, Alex, Zangief, Ryu, T. Hawk, and Dee Jay. This may have been part of the reason for her next appearance (in order of game releases) in Super Street Fighter IV.
Makoto has the slowest walking speed of any character in Super Street Fighter IV, and probably the entire Street Fighter series. She makes up for it with a faster-than-average dash.

Tatsunoko character Hurricane Polymar has a playstyle similar to Makoto in Tatsunoko vs. Capcom (both versions).

Her style of karate shares similarities to Shotokan Karate.
In the Makoto vs Makoto special intro in 3rd Strike, both characters do a Kyokushin Karate pose.[citation needed]
Makoto Nanaya, a character from the BlazBlue series, gains Makoto's Abare Tosanami and Seichusen Godanzuki when in her alternate "Unlimited" form (though most of her other moves come from Dudley).
It is possible the prototype and idea for Makoto's character design came from the girl petting the elephant in the background of Dhalsim's Street Fighter Alpha 2 stage.
Stage Theme
Edit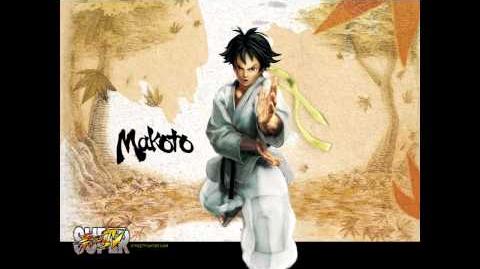 References
Edit