This article or section is a stub.
You can help the Street Fighter Wiki by expanding it.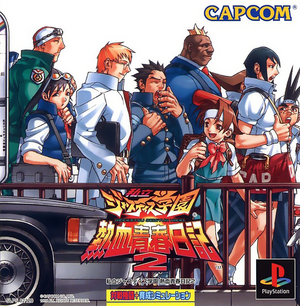 Nekketsu Seisyun Nikki 2 (私立ジャスティス学園 熱血青春日記2, Shiritsu Justice Gakuen: Nekketsu Seisyun Nikki 2?, "Justice Private Academy: Fighting Spirit Diary 2") is an update to Rival Schools: United by Fate, released on June 24, 1999 exclusively in Japan for the PlayStation.
The game features two additional characters, Ran Hibiki of Taiyo High School and Nagare Namikawa of Gorin High School, as well a new version of the "Nekketsu Seisyun Nikki" school sim mode, which feature additional mini games and further plot developments over the original Japanese version of Shiritsu Justice Gakuen.
Ad blocker interference detected!
Wikia is a free-to-use site that makes money from advertising. We have a modified experience for viewers using ad blockers

Wikia is not accessible if you've made further modifications. Remove the custom ad blocker rule(s) and the page will load as expected.