This article or section is a stub.
You can help the Street Fighter Wiki by expanding it.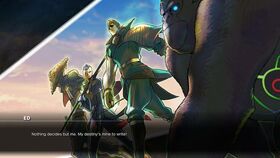 Neo Shadaloo[citation needed] is an organization headed by Ed, first seen in his character story in Street Fighter V.
Whether it is the same as Shadaloo, but with benign goals and a rather friendlier tone (due to Ed despising M. Bison, and by extension, the original Shadaloo), remains to be seen.
The members shown in Ed's ending consist of a girl who is similar in appearance to himself wielding a long polearm-type weapon, a very tall, lanky man with an upturned collar, and what appears to be a gorilla.
Ad blocker interference detected!
Wikia is a free-to-use site that makes money from advertising. We have a modified experience for viewers using ad blockers

Wikia is not accessible if you've made further modifications. Remove the custom ad blocker rule(s) and the page will load as expected.