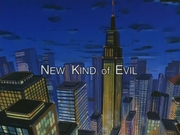 New Kind of Evil is the third episode in the second season of the Street Fighter TV series.
Chun-Li is attacked by mysterious mutant assailants, as well as having her TV crew kidnapped. She calls for Guile and Blanka's help to track them down, which leads to a search of the sewers. They soon find out that a former scientist of M. Bison's is continuing mutant research and mutated 3 thugs into half man, half eel/alligator/bat warriors. In the ensuing battle, Blanka receives a mega-dose of mutagen ooze, which turns him even more feral.
Ad blocker interference detected!
Wikia is a free-to-use site that makes money from advertising. We have a modified experience for viewers using ad blockers

Wikia is not accessible if you've made further modifications. Remove the custom ad blocker rule(s) and the page will load as expected.