"Scream in pain! Nightmare Booster! This place shall become your grave!
(

泣き叫べ! ナイトメアブースター! ここが貴様の墓場だぁ!

Nakisakebe! Naitomea Buusutaa! Koko ga kisama no hakabadaa!

?

)"
The Nightmare Booster (ナイトメアブースター, Naitomea Buusutaa?) is M. Bison's first Ultra Combo in Street Fighter IV. As its name implies, it is a more powerful version of the Knee Press Nightmare.
Description
Edit
Executed by charging backward then moving forward, backward, forward and pressing all 3 kick buttons, Bison makes his traditional "You're done!" throat-slicing gesture, and then proceeds perform two Double Knee Presses while shouting the Ultra Combo's name. He follows with a Psycho Crusher that, if it lands, drives both him and the opponent straight into the air.
At the peak of the flight, Bison applies a Somersault Skull Diver that launches himself up while propelling the opponent downwards to the ground, then performs a very hard Head Press onto the fallen opponent's body.
Screenshots
Edit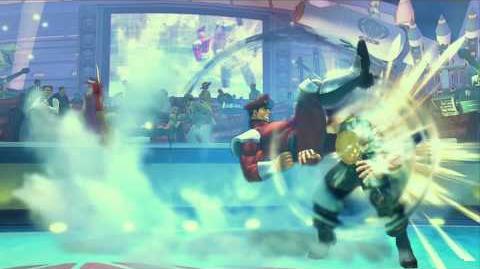 Ad blocker interference detected!
Wikia is a free-to-use site that makes money from advertising. We have a modified experience for viewers using ad blockers

Wikia is not accessible if you've made further modifications. Remove the custom ad blocker rule(s) and the page will load as expected.