Priority Linking, often shortened to Plinking or P-Linking, is a term used in certain fighting games to refer to an advanced technique with the purpose of making combos, especially difficult ones, easier to pull off. This mechanic is most often associated with Super Street Fighter IV and the subsequent updates.
Description
Edit
Plinking is possible through a programming detail in Super Street Fighter IV based on exploiting the priority mechanic of the game. This "priority" mechanic simply gives certain button commands higher priority than others, thus the name. Heavier attack inputs have higher priority than lighter attacks, whereas kick inputs have higher priority over punch inputs of the same strength level (light, medium, or heavy). The priority order is as shown below:
By exploiting this mechanic, the player gains an extra frame to hit the next move in a combo, which potentially doubles the chance of landing one-frame links.
Technique
Edit
Plinking is done by quickly pressing two or more buttons in rapid succession (in priority descending order) exactly one-sixtieth (1/60) of a second, or one frame, apart. This can be done by rolling one's fingers across two button, almost hitting them simultaneously. It is typically easier to perform on arcade sticks than controllers, but it is still a rather difficult technique to master.
Tutorials
Edit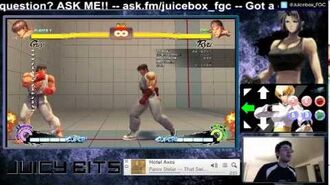 Ad blocker interference detected!
Wikia is a free-to-use site that makes money from advertising. We have a modified experience for viewers using ad blockers

Wikia is not accessible if you've made further modifications. Remove the custom ad blocker rule(s) and the page will load as expected.