The Raida (雷打, Rai Da?, "Thunder Strike") is one of Ibuki's special attacks, introduced in the Street Fighter III series.
Input

| | |
| --- | --- |
| All appearances | + |
Description
Edit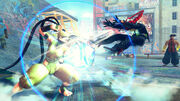 Executed by performing a half-circle backward motion and pressing punch, Ibuki attempts to grab her opponent; if successful, she holds her opponent's arm, puts her fist to the ribs underneath, charges her fist with ki energy and releases that energy in a powerful explosion which sends the opponent flying across the screen. It is a command grab, however can be blocked high and low and it can be used in ground juggles. There doesn't appear to be any difference when different punch buttons are used.
The EX Special version inflicts more damage and has a slightly wider hitbox.
Ad blocker interference detected!
Wikia is a free-to-use site that makes money from advertising. We have a modified experience for viewers using ad blockers

Wikia is not accessible if you've made further modifications. Remove the custom ad blocker rule(s) and the page will load as expected.