Sarai
Talk

2
1,329pages on
this wiki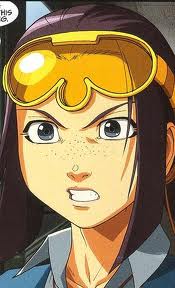 Sarai Kurosawa
is a non-playable minor character who appears in some games of the
Street Fighter
series. She is a teenage girl who is the best friend and classmate of
Ibuki
.
Sarai appears in Ibuki's Street Fighter III: 3rd Strike ending, wherein Ibuki, thinking somebody is sneaking up on her, throws kunai at Sarai, who shields herself with her bookcase. She then gets angry at Ibuki for attacking her and ruining her textbooks.
She also appears in Ibuki's Super Street Fighter IV ending where Ibuki is late for her ninja exams and sneaks in by using a camouflage sheet. Her master sees Ibuki and he throws kunai at Ibuki. The kunai almost hit Sarai who freaks out and ducks quickly.
Other appearances
Edit
In UDON's Street Fighter Legends: Ibuki, Sarai is the only student at school who knows Ibuki is a ninja. Later in the comic, Ibuki befriends Makoto and Elena, causing Sarai to become jealous that Ibuki is friends with other warriors. She later reveals that she was jealous of the three warriors and just wanted Ibuki to herself. After this, they make up and become best friends again, and Sarai even travels with Ibuki to challenge Oro in combat. Sarai later becomes a ninja herself.
Sarai makes a cameo in Street Fighter X Tekken on the Mishima Estate stage. On the top floor she is shown arguing with Kunimitsu from the Tekken series. On the 2nd floor, she is seen chasing Kunimitsu around.