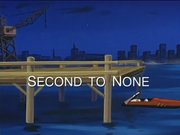 Second to None is the eleventh episode in the second season of the Street Fighter TV series.
Ryu is a legend in Shadaloo, and Sakura is his most adamant admirer. But when Sagat patrols the streets regularly making sure to burn down any building with posters of Ryu in it, Sakura leaps into action. She boards a plane headed for New York to seek out her idol, who had just been visiting Ken in the hospital, as Ken swallowed some water while on a mission in Africa. Ryu meets Sakura, and she convinces him to come to Shadoloo to defeat Sagat once more. Sagat welcomes the challenge, and he and Ryu have another epic confrontation.
The episode title can be interpreted as a play on words on Street Fighter Zero 2, the Japanese title of the video game Sakura hails from.