Shinku Hadoken
Talk

0
1,341pages on
this wiki
"The ultimate form of wave motion attack...Shinkuu...the power of vacuum energy!"
—Ryu
"Here we go! Shinku (Tengyo) Hadoken! (

行っくよぉ~、真空~(天仰)波動けーん!

Ikku yooo, Shinkuuu (Tengyou) Hadoukeen!

?

)"
The Shinku Hadoken (真空波動拳, Shinkuu Hadouken?, "Vacuum Surge Fist") is the name of a Super Combo used by Ryu, Sakura, and Ken (crossovers only in his case, as shown below). It was among the first Super Combos introduced in the series, and is one of Ryu's 'trademark' attacks; several variants of this move exist.
Details (USFIV)

| | |
| --- | --- |
| Damage (Ryu) | 300 |
| Damage (Sakura) | 329 |
Description
Edit
The Shinku Hadoken is a large, multi-hitting Hadoken (the maximum usually being 5 hits) which travels the whole stage, but can be easily jumped over. Its power easily lets it plow through other weaker projectiles, though some games lower the amount of hits landed for each one it 'breaks'.
Ryu has had the Shinku Hadoken as a Super Combo ever since they were introduced Super Street Fighter II Turbo, where it was referred to as "Burst Fireball" or "Vacuum Fireball". It also appears as a Hyper Combo in all of his crossover appearances. Sakura has also been able to use the Shinku Hadoken in most, if not all, of her appearances, usually also possessing an anti-air variant. Akuma possesses the more lethal Messatsu Gou Hadou, while Dan has his own version called the Shinku Gadoken.
In addition to being Ryu's Super Combo, it also appears in Super Street Fighter IV as Sakura's second Ultra Combo and Sakura has two versions of the move: a standard ground version which is performed using the 3 punch buttons, and the anti-air version which is performed using the 3 kick buttons. The variants are called Shinku Tengyo Hadoken (真空天仰波動拳, Shinkuu Tengyou Hadouken?, "Vacuum Heavenly Command Surge Fist") and Shinku Soku Hadoken (真空蒼空波動拳, Shinkuu Soukuu Hadouken?, "Vacuum Pale Sky Surge Fist").
Crossover appearances
Edit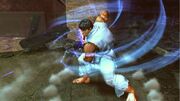 In the crossover games, the Shinku Hadoken takes the form of a large beam resembling the "Kamehameha" from the
Dragon Ball
series that lands even more hits, though the attack strength and dodging method remains unchanged. Sakura's variant is an exception, as she fires continuous blasts diagonally upward, though it is performed normally in her "Sunburned" form.
When Ryu and Ken are on the same team, they can fire the Double Shinku Hadoken, which has Ryu and Ken fire the Shinku Hadoken together to overwhelm the enemy. This is the only means of access Ken has to the move.
The move most recently appeared in Marvel vs. Capcom 3 as one of Ryu's Hyper Combos; here, it can be fired in multiple directions and directed while firing as well. In Ultimate Marvel vs. Capcom 3, while under the influence of Hado Kakusei, the Shinku Hadoken becomes the Shin Hadoken (真波動拳, Shin Hadouken?, "True Surge Fist"), and it gains the ability to bounce off of walls.[1]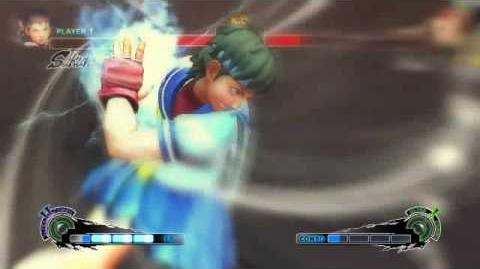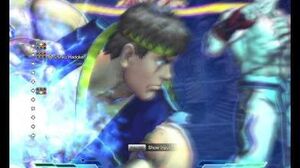 Screenshots
Edit
References
Edit