This article or section is a stub.
You can help the Street Fighter Wiki by expanding it.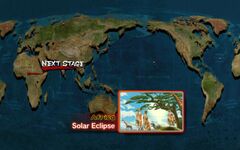 Solar Eclipse is a stage introduced in Super Street Fighter IV. It takes place in Central Africa.
Description
Edit
The stage takes place in the African Savannah at a watering hole, located close to the Shadaloo airfield, during an eclipse. There are numerous African fauna watching the battle, including meerkats, hippos, zebra and giraffe, amongst other wildlife. During certain times, a solar eclipse happens for a moment.
Ad blocker interference detected!
Wikia is a free-to-use site that makes money from advertising. We have a modified experience for viewers using ad blockers

Wikia is not accessible if you've made further modifications. Remove the custom ad blocker rule(s) and the page will load as expected.