This article or section is a stub.
You can help the Street Fighter Wiki by expanding it.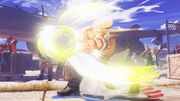 Sonic Blade
is
Guile
's
V-Skill
in
Street Fighter V
.
Describtion
Edit
Guile spins up sonic energy to create a stationary vertical Sonic Boom projectile. By throwing a Sonic Boom immediately after activation, you can power up it into a 2-hit attack call Sonic Cross. If no Sonic Boom is thrown right after activation, Sonic Blade diminishes within a mere second.