This article or section is a stub.
You can help the Street Fighter Wiki by expanding it.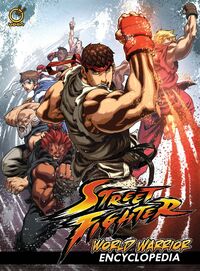 The Street Fighter: World Warrior Encyclopedia Hardcover is the updated and expanded version of the Street Fighter World Warrior Encyclopedia book published by UDON Entertainment in 2011. The Hardcover version was released in 2015 and features new fighters, new artwork, and all-new information. Like the original version, it is an Encyclopedia of the Street Fighter characters.
Each biography page of the playable characters who first appeared in the 2D Street Fighter games has a small image of their character sprite model on the top right. Interestingly enough, 2D character sprite models were also made for the playable characters who first appeared in the Street Fighter IV games (in which the characters are rendered as 3D models with polygons); said fighters being Abel, C. Viper, Decapre, Gouken, Hakan, Juri, Oni, Rufus and Seth.

Evil Ryu's Street Fighter IV redesign was given this treatment as well.
Ingrid's Street Fighter Alpha 3 in-game profile states her height and weight as 5'0" (152 cm) tall and 86 lbs (39 kg) respectively.[1] The encyclopedia however states her height to be at around 5'10", and her weight at 108 lbs (49 kg).
References
Edit