This article describes a project that is either fan-based or otherwise unofficial. The article exists because said content is of exceptional notability and/or has been given the approval of Capcom.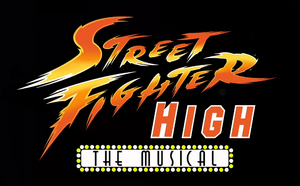 Street Fighter High: The Musical
is a live-action short fan film based on Capcom's popular fighting game series
Street Fighter
. It is a sequel to
Street Fighter High
.
"They would become the world's greatest fighting champions. But first they had to go to prom. The kids of Street Fighter High are back... in the big screen musical you hadouk-ant miss!"
At the end, the announcer is revealed to be Reuben Langdon reprising his role as Ken in live action.

Michael T. Coleman also reprises his role as Cody (voice only)

Dan Hibiki is played by Matthew Mercer, the voice of Fei-Long.
During the credits, the following fights are shown

Dan Hibiki vs. Sakura Kasugano
El Fuerte vs. Makoto
Guy vs. Juri Han
Ad blocker interference detected!
Wikia is a free-to-use site that makes money from advertising. We have a modified experience for viewers using ad blockers

Wikia is not accessible if you've made further modifications. Remove the custom ad blocker rule(s) and the page will load as expected.