This article or section is a stub.
You can help the Street Fighter Wiki by expanding it.
This article is about the group in the American animated series and is not to be confused with the video game franchise or the 1987 video game.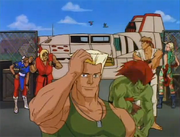 The Street Fighters is a group in the 1995 American animated Street Fighter series. The group consists of hero characters who are from nine different nationalities and are battling M. Bison and his henchmen for the fate of the world.
Personnel
Edit
Ad blocker interference detected!
Wikia is a free-to-use site that makes money from advertising. We have a modified experience for viewers using ad blockers

Wikia is not accessible if you've made further modifications. Remove the custom ad blocker rule(s) and the page will load as expected.