Sumo Headbutt
Talk

1
1,120pages on
this wiki
The Sumo Headbutt, sometimes known as the Sumo Torpedo, is one of E. Honda's special attacks, introduced along with him in Street Fighter II.
Description
Edit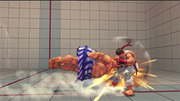 Executed by charging backwards and then pressing forward and punch, Honda launches himself head-first towards the opponent in a horizontal trajectory, similarly to
M. Bison's
Psycho Crusher
, while shouting his signature sumo battlecry.
How far the move can travel is determined by the strength of the punch button used: light punch goes about 1/3 of the screen (also grants some invincibility at startup, and is safe on block), medium punch goes roughly 3/4 of the screen and heavy punch travels the whole screen. The EX Special version introduced in Street Fighter IV gives Honda larger invincibility frames on a quicker startup, and also is safe on block.