This article or section is a stub.
You can help the Street Fighter Wiki by expanding it.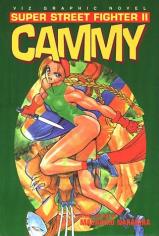 Super Street Fighter II: Cammy Gaiden (スーパーストリートファイター2 キャミィ外伝) is a single-volume manga written by Masahiko Nakahira. Originally published in Shogakukan's Shonen Sunday (known for, among other titles, publishing Rumiko Takahashi's high-profile works like Ranma 1/2 and Inuyasha), the manga revolves around the titular Cammy, an amnesiac MI6 agent, as she fights the forces of Shadaloo, whilst trying to regain her shattered memories.
Nakahira released an extra chapter for Cammy Gaiden in the Street Fighter II Movie film book "Gekijouyou Animation Street Fighter II".
See also
Edit
Ad blocker interference detected!
Wikia is a free-to-use site that makes money from advertising. We have a modified experience for viewers using ad blockers

Wikia is not accessible if you've made further modifications. Remove the custom ad blocker rule(s) and the page will load as expected.