Tanuki (狸, タヌキ or たぬき, [tänɯᵝki]?), also known as the Japanese raccoon dog, is a puzzling animal species in the order Carnivora (ネコ目, Neko-moku?), family Canidae (イヌ科, Inu-ka?), genus Nyctereutes (タヌキ属, Tanuki-zoku?) that has been significant in Japanese folklore since ancient times. The legendary tanuki is reputed to be mischievous and jolly, a master of disguise and shapeshifting, but somewhat gullible and absentminded.
In the Street Fighter series, tanuki are common near Ibuki's ninja village, and she has a pet tanuki named Don-chan. The village has a tanuki population of 256.[1]
In Super Gem Fighter Mini Mix, Ibuki throws tanuki statues when using Kasumi Suzaku.
The most notable of Ibuki's Ninja Village Tanuki
Edit
Don-chan (どんちゃん, Don-chan?) is Ibuki's pet tanuki that has been with her since its birth. Don-chan is the only tanuki from the ninja village able to use Ninjutsu. It can be told apart from other tanuki by the cloth wrapped on its tail.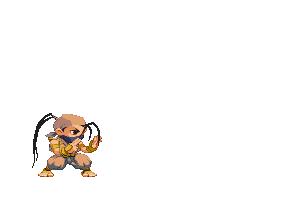 References
Edit
External links
Edit