Tatsumaki
Talk

4
1,120pages on
this wiki
The Tatsumaki (竜巻, Tatsumaki, "Tornado") is a special move used by Ryu, Ken, Akuma, and Gouken.
Description
Edit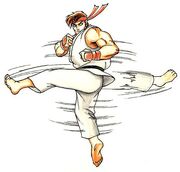 It originates from the classic Capcom fighting video game series
Street Fighter
. The practitioner jumps and, while in the air, rotates his or her legs, kicking the opponent 1~3 times depending on button pressed. It is usually performed by moving the joystick or D-pad a quarter circle backwards the opponent from the down position, then pressing a kick button. The Tatsumaki, in some games, will lift the user high enough to fly over some projectiles, like
Hadokens
or
Sonic Booms
.
Different Types of Tatsumaki
Edit
Tatsumaki Senpukyaku
Edit
Users: Ryu, Ken, Evil Ryu, Violent Ken Debut: Street Fighter
The Tatsumaki Senpukyaku (竜巻旋風脚, Tatsumaki Senpuukyaku, literally "Tornado Whirlwind Leg"), also known as Hurricane Kick, is a special move that is usable by Ryu and Ken in Street Fighter. In its early appearances, it hit up to three times. In later games, starting with Super Street Fighter II, Ryu's Tatsumaki Senpukyaku, though spinning much, usually only strikes the foe once, harshly, while Ken's has more hits and is more combo-able. Both of their "evil" counterparts use it as well in their games. In Street Fighter IV, this attack has Armor Breaking properties and can also become an EX special move.
Ryu
Ken
Dankukyaku
Edit
User: Dan Debut: Street Fighter Zero/Alpha
Dan uses a parody of Ryo Sakazaki's Hien Shippuu Kyaku as his version of the Tatsumaki called Dankukyaku (断空脚, Dankuukyaku, "Severing Air Leg.") In Street Fighter Alpha 3, the SNK vs. Capcom series, and more recently, Street Fighter IV, he can also perform it while airborne. The Dankukyaku has three strength variations. The weakest version is a leap and knee jab forward. The knee jab can strike both crouching, standing and aerial foes, which is when it is most damaging. The second is a knee jab and kick, while the third is a knee jab and kick followed up by a second kick that can send opponents to the turf. It's EX version kicks twice and then kicks low, sending the opponent flying to the ground.

User: Sean Debut: Street Fighter III: New Generation
Sean is another fighter that also uses a variant of this move, called Tornado. It looks similar to Ryu and Ken's Tatsumaki Senpukyaku, but uses both legs, thus making it more similar to Dan's version.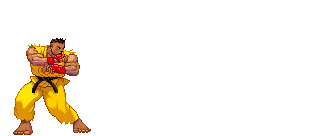 Users: Akuma, Cyber Akuma, Oni Debut: Super Street Fighter II Turbo
The Tatsumaki Zankukyaku (竜巻斬空脚, Tatsumaki Zankuukyaku, "Tornado Air Slashing Leg"), also known as Hurricane Scythe Kick, is Akuma's version of the Tatsumaki Senpukyaku. Though his movement is similar to Ryu and Ken, in some games lightning may be created by his feet during his Tatsumaki. Like most of his techniques, it is much stronger and faster than Ryu and Ken's. It can hit muiltiple times, and is considerably faster and somewhat harder to control than Ryu and Ken's. It can combo well into his other moves, and it can be used in the air. The traits of the move itself are a mix of Ryu and Ken's; it has the power of Ryu's and the multi-hitting property of Ken's. In the Marvel vs. Capcom series, the attack takes on lightning properties and hits 5 times, while in Super Gem Fighter Mini Mix, Akuma's version of the move is shown to produce a poisonous gas, as Ryu's moves are already enhanced with electricity in this game. Cyber Akuma, the boss counterpart of the regular Akuma in Marvel Super Heroes vs. Street Fighter, has a stronger variant dubbed Thunder Shock Zanku Kyaku. Oni's version of the Tatsumaki Zankukyaku is more damaging but slower than Akuma's and hence is not as combo-friendly.
Akuma also possesses the Messatsu Gorasen, a Super Art version of this move. In Super Street Fighter IV, Akuma receives what is probably the most lethal of all Tatsumaki techniques, the Demon Armageddon.
Shunpukyaku
Edit
User: Sakura Debut: Street Fighter Alpha
The Shunpukyaku (春風脚, Shunpuukyaku, "Spring Breeze Leg"), also known as Twirling Gale Kick, is Sakura's own version of Ryu and Ken's own Hurricane Kick. Instead of floating in the air, Sakura's variation allows her to uprise and then float back down while spinning. In Street Fighter IV, the EX version adds an extra kick that launches the opponent, and in Super Street Fighter IV it can be followed up with a Shinku Tengyo Hadoken.

Tatsumaki Gorasen
Edit
User: Gouken Debut: Street Fighter IV
The Tatsumaki Gorasen (竜巻剛螺旋, Tatsumaki Gourasen, "Tornado Strong Spiral") is Gouken's version of the Tatsumaki, based off Akuma's Messatsu Gorasen Super Art from Street Fighter III: 3rd Strike. However, instead of spinning in place or moving across the screen, the Tatsumaki Gorasen moves upwards, bringing the opponent with it. Once Gouken reaches the top of the screen, he finishes with a powerful final kick which sends the opponent flying across the screen while Gouken slowly descends to earth. This attack can be executed in mid-air, in which case it functions similar to a normal ground Tatsumaki Senpukyaku.
References in Popular Culture
Edit
See: Tatsumaki/Pop Culture.
See Tatsumaki/Sprites.
Screenshots
Edit