Tenmakujinkyaku
Talk

1
1,196pages on
this wiki
The Tenmakujinkyaku (天魔空刃脚, Tenmakuujinkyaku, "Mara Air Blade Kick") is one of Akuma, Evil Ryu, and Gouken's Unique Attacks. It is also one of many techniques copied by Seth in the Street Fighter IV series.
Description
Edit
Akuma jumps, landing with a strong kick that inflicts high damage; if successful, Akuma can follow up with any other attack, making this a good combo starter. It can also be performed via Hyakkishu.
This attack can beat out a Shoryuken if both are executed at the same time, but it cannot cancel Sakura's Shououken and Dan's Koryuken.[citation needed]
In the Marvel vs. Capcom series, the move is a special attack, and its input was changed to a quarter-circle forward motion.
Screenshots
Edit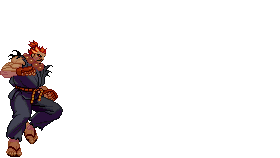 In the Special Edition of Devil May Cry 3, Vergil possesses his own version of the Tenmakujinkyaku, called Starfall. The Level 2 of this move sees his legs glowing brightly, referencing its name.
Magma Dragoon, one of the bosses in Mega Man X4, possesses a fire-elemental version of this move, dubbed as the Enkoukyaku ("Flame Descending Leg"). This move also returns in Mega Man X8 as one of the special attacks Zero can use when equipping the K-Knuckle.